MilesWeb Reseller Hosting Review: Ideal for Web Designers & Developers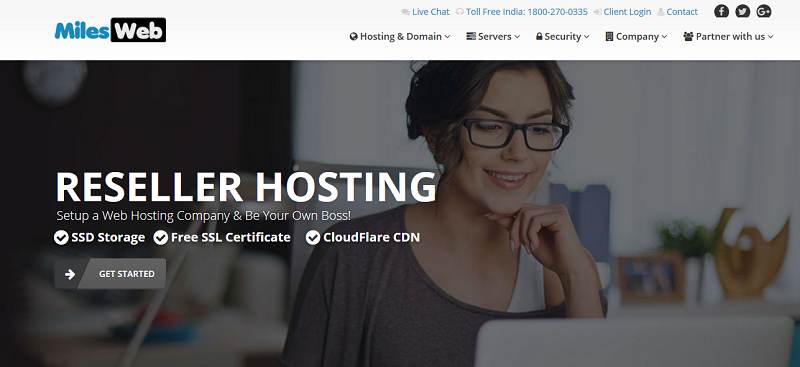 In the competitive market today, if you have a business it needs to be supported with a website. Gone are the days, when only online businesses needed websites for marketing and selling their services and products. In today's era, be it a brick and mortar business or a grocery store, it needs to be discoverable via web. The first place that a customer would search for the services that you render for is the web. Thus it becomes all the more important to have a website that could showcase your expertise and skills in order to grab the attention of the client and make them your potential customer. The phase is not the same when just yellow pages listing did the job. Now people tend to look out for new avenues and business on the search engines to find every minute detail, be it the hours of operation of a firm to finding the one which suits best in their budget. So if your website does not show up, there is every possible chance of the potential customer not reaching you. You need to have a website to excel, no matter what kind and scale of business you run, to be competitive and stay in the market.
This all can be put into place only when you have a good host to support your website which would make sure that you are alive and going almost at all times in order to reach out to the audiences all round the world and grow your business. With most of the web hosting companies in the market offering 30-90 days money back guarantee, it becomes extremely crucial and difficult to spot the hosting partner that would be ideal and best suits your needs. My situation was same as I was looking to make some money in the field of reseller hosting and not wanting to spend unnecessary time losses and wastages in taking care of the hosting vendors that I render to. I have been in this business for almost 4 years now and tried many hosting partners. It was two years ago, that I came across a newly established web hosting company, MilesWeb promising to meet all my expectations at a very competitive pricing. It is after two years of my experience with this firm, that I take this opportunity today to review them so that I can let my fellow colleagues from the same domain and business of reseller hosting know more about my experience with MilesWeb and see for themselves if the packages offered would fit into their business ideologies.
Let us now see more in detail about MilesWeb and  the Features of Reseller hosting India offered by them;
With an assurance of providing simple, fast, reliable and affordable web hosting solutions to meet the ever growing demand for evolving online businesses MilesWeb was started around 4 years back in the year 2012. Having it headquarters in Nashik, Maharashtra it has cruised a long way and now stands at par with some of the big names in hosting.
Curious to know more about their Reseller Hosting, here you go!
MilesWeb Reseller Hosting Features
Create your Own Brand :
You as a reseller can create your own brand and set up everything from emails to control panel and all in between. With MilesWeb, you get labeled packages and can label them with own brands. You can then brand the control panels with your own business name.
Free Site Mitigation :
Don't be worried about transferring your website from the current host to the MilesWeb, as the technical experts at MilesWeb will do it free of cost.
Daily Backup :
When you become a reseller, you are solely responsible for all your clients' data security. MilesWeb takes daily backup of your client's website on their offshore servers. In case of any emergency, data can easily be recovered avoiding unnecessary hassles.
24*7 Support :
The most important thing when one signs up for a hosting package is support. With MilesWeb you can be assured of 24*7 Customer Support. They provide support via phone, email, chat and ticket system according to the convenience of the user. You can concentrate on growing your business and all the technical problems would be looked into by MilesWeb.
No limits on Websites and domains :
When you decide to be a reseller, it is not a pleasing site to see limitations being applied on the number of websites and domains you create. With MilesWeb you can create unlimited domains. A reseller business should not be limited by any factor, or else the cost of running the business will move way beyond the profits you earn to keep the business intact.
Easy to Upgrade :
With time, the hosting business is going to grow. MilesWeb is a top web hosting provider with a large global presence. It has multiple data centers located across the globe. As your business grows you can easily upgrade your package free of cost. The process is up and user friendly and all you have to pay for is the updated package.
Effective Control Panels :
With MilesWeb, you get total control of your business. You can manage the complete process, from the client's websites to emails and everything in between.

MilesWeb lets you setup your own Reseller hosting business without unnecessary hassles of heavy investment and administration. Providing benefits like White label reselling, Free Migration and Custom Branding, MilesWeb offers you excellent value for money. As a Reseller, you are at the liberty to create packages of your choice to resell at prices determined by you. Signing up for instant access for your control panel is very simple. After a lot of research and seeing the usability of hosting packages by many resellers, they have devised three plans which have been listed below :
| | | |
| --- | --- | --- |
| Pluto – Rs 399 /mo | Mars – Rs 999 /mo | Jupiter – Rs 1499 /mo |
| Host 25 Domains | Host 100 Domains | Host 200 Domains |
| Unlimited SSD Space | Unlimited SSD Space | Unlimited SSD Space |
| Unlimited Bandwidth | Unlimited Bandwidth | Unlimited Bandwidth |
| Free SSL Certificate | Free SSL Certificate | Free SSL Certificate |
| WHM / cPanel / Softaculous | WHM / cPanel / Softaculous | WHM / cPanel / Softaculous |
| Unlimited MySQL DB's | Unlimited MySQL DB's | Unlimited MySQL DB's |
| Unlimited Email Accounts | Unlimited Email Accounts | Unlimited Email Accounts |
| Location : India / US / UK | Location : India / US / UK | Location : India / US / UK |
At such a competitive pricing , MilesWeb offers you almost 100 % Uptime and 24*7*365 Customer Support via Phone, chat or email. It offers you the most powerful and user friendly control panels and has Tier III Datacenters to support your website. They also back up the website data on a regular basis. All these features at the above mentioned pricing sounds like a deal and it is recommended that if one plans to get going with Reseller hosting.
Conclusion
According to me, MilesWeb has over the years emerged as a promising hosting provider that you can rely on. I could not figure out any flaws or major drawbacks by them in my experience of 2 years with the hosting firm. The support is excellent and you have assistance at your service almost anytime you want it, that lets you concentrate more on promotions and marketing.
You can upgrade to a higher plan like VPS, Cloud hosting or dedicated server anytime, as and when you start finding more people wants to sign up with you for the hosting service. I know that there are many hosting providers in the market boasting of offering such features. If your hosting provider never delivered the same, then it's time for a change and need to switch to MilesWeb now.
Give them a shot and they would deliver !